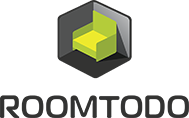 DESIGN YOUR HOME IN 3D
Plan, design and decorate your home in 3D
without any special skills
What is Roomtodo?
Simple and playful Interior design software.
Online based software with an intuitive interface and powerful tools. Plan, design and decorate your apartment, house, office, and more. Get professional results without any professional skills. Roomtodo lets you visualize your projects clearly, realistically, and quickly, providing you with powerful tools to design and experiment with your interiors.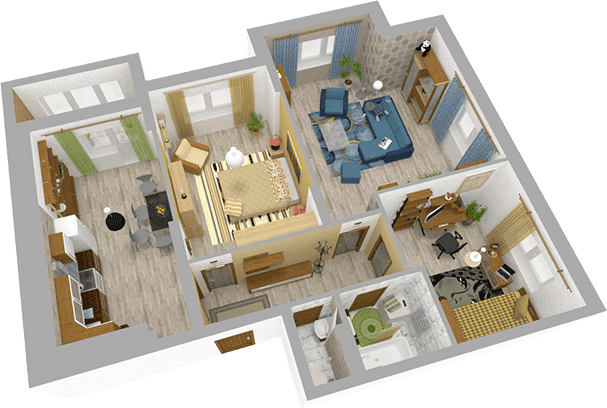 Program features
Draw a 2D plan of the apartment
Original drawing tools, which are not available in other online programs, allow you to create complex configuration plans, including angled walls and walls of uneven thickness.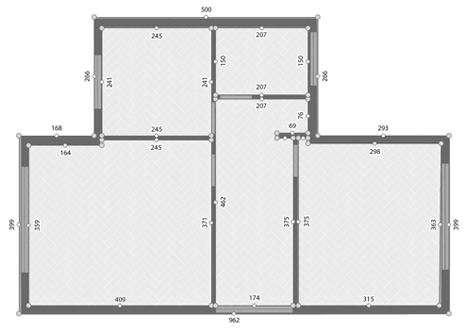 Draw on top of the blueprint
Upload your apartment plan, draw the outline of the rooms and your apartment is ready for design in 3D.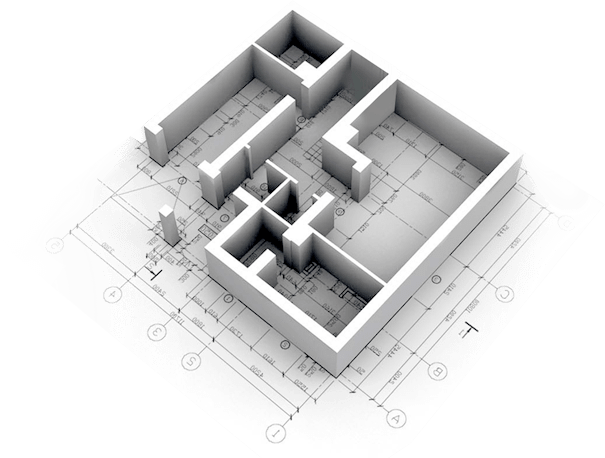 Add windows and doors
A lot of models of windows, doors, as well as arches, columns, and other structural components.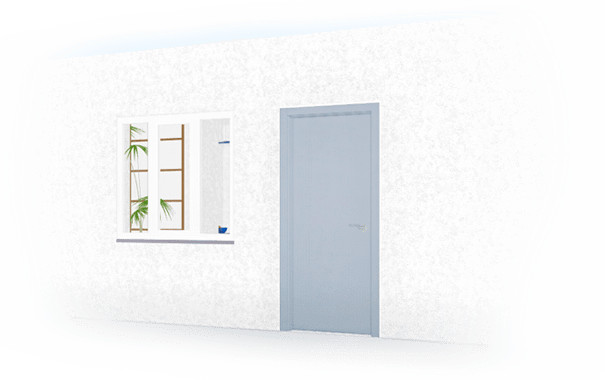 Select finishing materials
Experiment with thousands of wall, floor and ceiling finishes. Use wallpaper, laminate, tiles, mosaics, wood and stones – everything you can think of.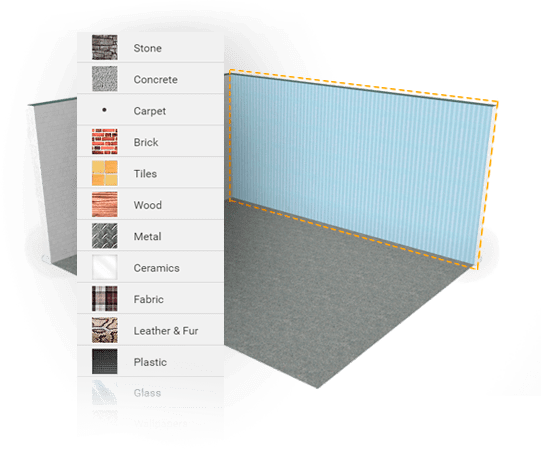 Arrange furniture and decorative objects
Hundreds of various pieces of furniture and decorative objects with the possibility of customization. Resize, combine finishing materials. A large number of combinations are available and the initial version can be changed beyond recognition.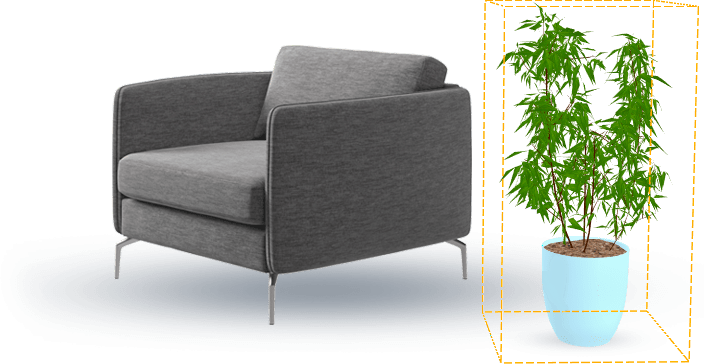 Different view modes in 3D
Switch between different view modes
- Drawings - for building walls
- 2D and 3D - for placement of furniture and decoration
- First-person view - for walking around the room and evaluating the result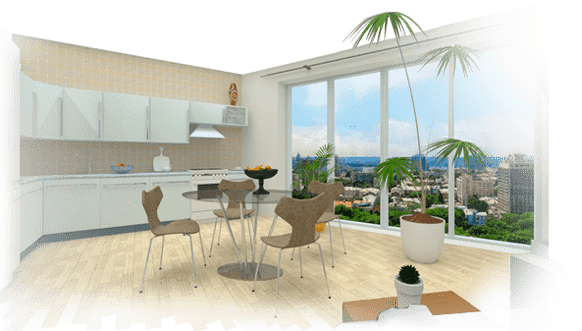 Save the project and share the result
Save as many versions of the project as you need - without any restrictions. Send a link to the project to your friends or post it on Facebook.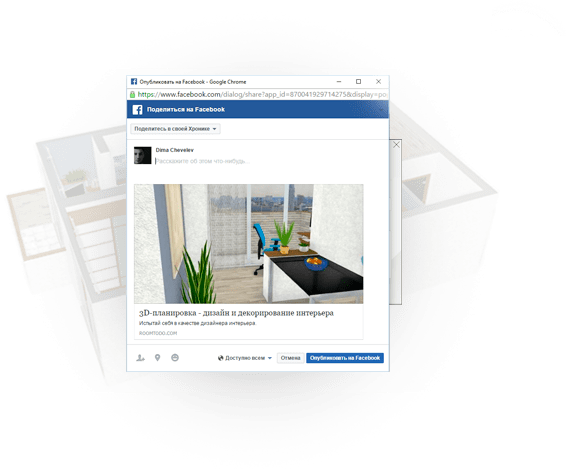 It's Free!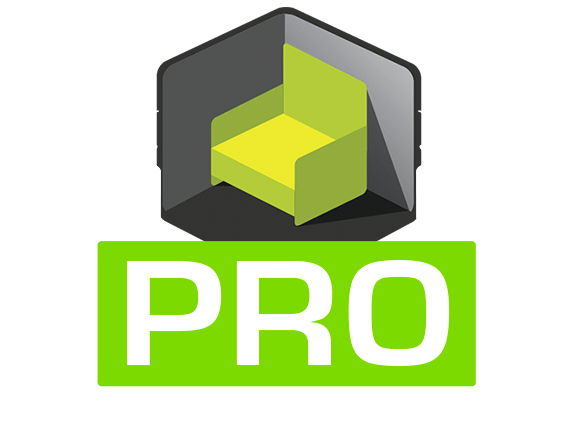 More features with the PRO version!
With additional tools, you can do what others can't.
Combining materials on the walls
It allows you to create complex combinations on the walls and combine different finishing coats. For example, you can create splashbacks or a combination of different tiles in the bathroom.
Baseboard editor
It allows you to choose the shape and size of baseboards and crown molding, which can completely transform the room and are indispensable for classic-style interiors.
Adding your own pictures
Upload and place pictures created by your favorite artists and your own photos on the walls.
Adding your own textures
Upload your own versions of wallpaper, tiles, laminate and other decorative coatings for walls, floor and ceiling.
Adding your own rugs
A new rug can refresh the design of the room. Upload your own versions of rugs.
Priority support
If you need support to understand the features of Roomtodo - you will receive prompt advice.
Give yourself more opportunities
1 month
For those who are eager to try
monthly
6 months
Best for a standard renovation or construction project
every 6 months
12 months
The most advantageous option for permanent use
yearly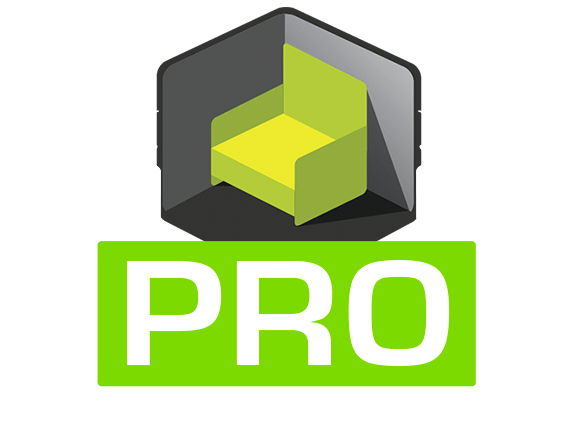 Contact us
Got a question about using Roomtodo?
If you need additional information regarding any of the features of Roomtodo space planner, please don't hesitate to contact us by any of these channels.
Roomtodo OÜ
Estonia, Tartu mnt 67/1,
Kesklinna linnaosa, Tallinn,
Harju maakond, 10115
[email protected]
Development office
04080, Ukraine, Kyiv,
Kyrylivska 47a
+38 093 566 10 80